Tyonar is a simple 16-step sequencer, heavily inspired by
Tonegrid
, which in turn is a direct Flash realization of
Tenori-On
by Yamaha (which is of coures a lot more powerful...). It's written with Audiodevice plus some custom C code for mixing and the delay line (desktop version uses Java, Dalvik is not fast enough, even with the JIT). The rendering is performed with good old SpriteBatch and a couple of Sprites. The app remembers your last "song" by storing it as a simple string via the Preferences interface. Taking full advantage of all things libgdx
The code is ~400 LOC, including the C parts. Not all that bad i'd say.
edit:
Thanks to StinkyRej from Reddit who pointed out i can use the min bufer size to synch up audio & video. Works like a charme, thanks mate!
leaving this here for hilarity and justice
: Android audio is hilariously silly. There's no way to calculate or query for the audio latency. That's why it the visuals might be slightly behind the actual audio on some phones (FU SAMSUNG GALAXY S!).
Here's a video:
http://www.youtube.com/watch?v=-cP4xponw0k
Here's a QR code leading you to the APK: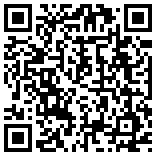 And here's the direct link:
http://dl.dropbox.com/u/24135503/tyonar-android.apk
I don't have any plans with this one. I might add pan and sort of ininite tracks, but we'll see. I just needed to do something else for 2 hours. Back to CI server maintainance, docs and issue fixing