I put this library together because I wanted a way to easily draw bump-mapped sprites (or sprites with other types of effects), and SpriteBatch is too specialized for doing that easily. And then I realized there was a need for a tool that is flexible enough to easily tinker with different effects.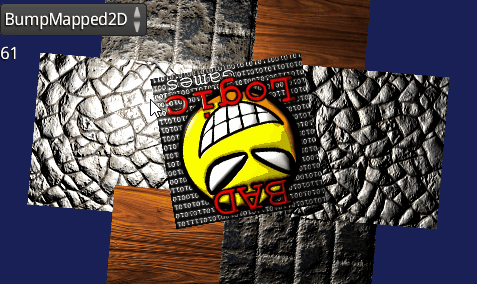 FlexBatch works similarly to SpriteBatch, but it lets you easily draw sprites with custom vertex attributes and multi-texturing. The flexibility comes by subclassing a Batchable class to define the vertex attributes, textures, and OpenGL state. FlexBatch then sets itself up to batch that kind of object specifically.
There is a bit more method call overhead if you use the built-in batchable types as compared to SpriteBatch, but in most cases this is unlikely to be the bottleneck. And it's set up so you can come back later and write an optimized version of your Batchable implementation that doesn't have the extra method calls (if the need arises).
SpriteBatch has a lot of overloaded methods. FlexBatch instead uses method chaining to set Batchables' parameters, since it doesn't make sense to create a multitude of overloaded methods to cover all the possible combinations of parameters a Batchable might have.
Code: Select all

flexBatch.setProjectionMatrix(cam.combined);
flexBatch.begin();
flexBatch.draw().textureRegion(brickRegion).textureRegion(brickRegionNormals).position(5, 4).rotation(30);
flexBatch.end();
Since it's flexible, FlexBatch can also be used as a stand-in for DecalBatch (so you can draw 3D sprites with custom effects). There is also a special version of FlexBatch called CompliantBatch that can be used as a stand-in for SpriteBatch/PolygonSpriteBatch so it is compatible with the various LibGDX classes like Stage, BitmapFont, NinePatch, etc.
You can add it to your core gradle dependencies with:
Code: Select all

compile "com.cyphercove.gdx:flexbatch:1.0-SNAPSHOT"
The usage instructions are here.
I'm sure this isn't quite adequately tested yet, so I'd love some feedback.